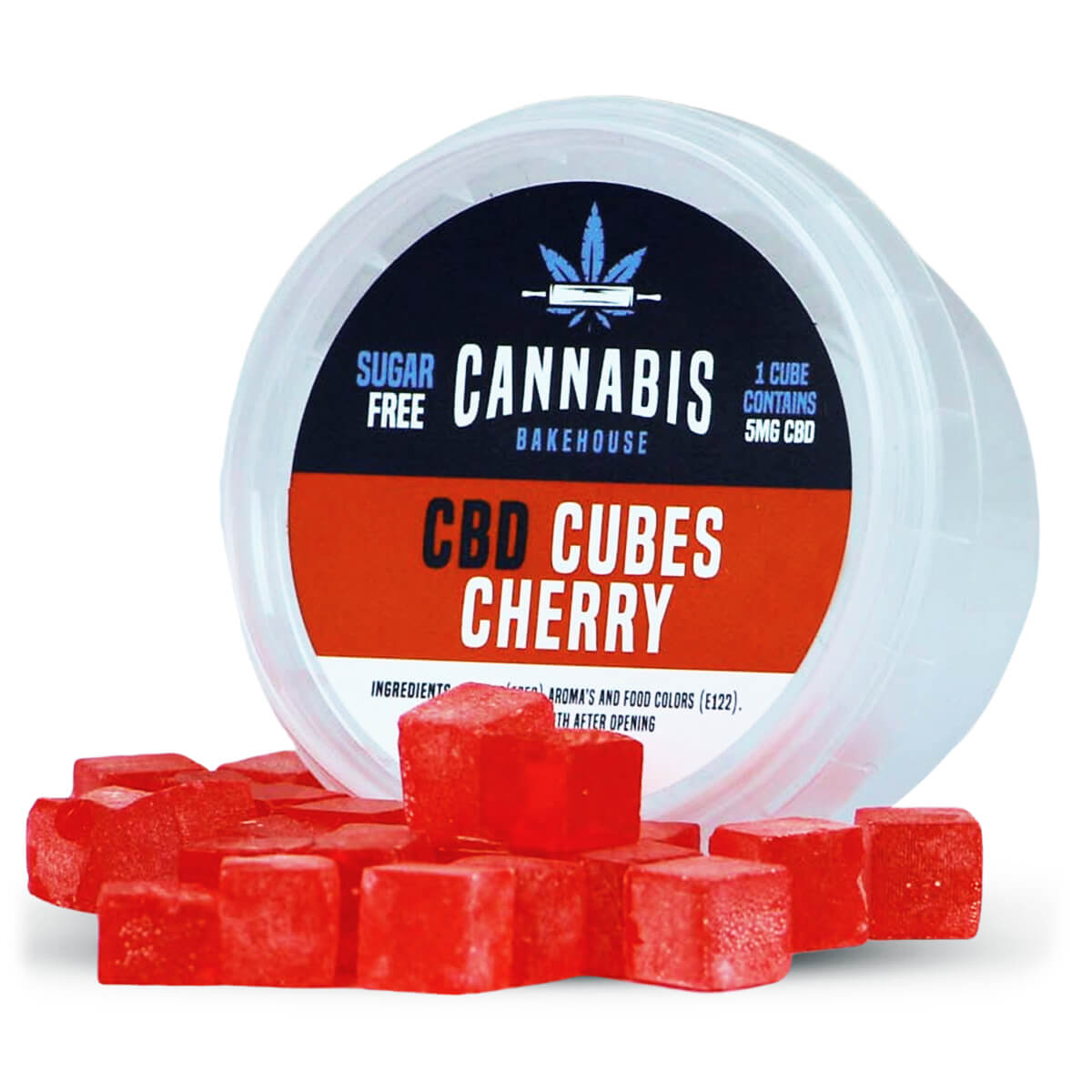 Cannabis Bakehouse CBD Cubes Cherry 5mg
€8,95
Brand: Cannabis Bakehouse
THC free

Description
Additional information
Description
Delicious Cherry Flavored CBD Candy Cubes
Sugar free candy? Sounds too good to be true, right? Fortunately, it's not. Our Cannabis Bakehouse CBD Cubes Cherry 5mg are tasty and delicious, and they are packed with 5mg CBD per cube. Available in cherry flavor, these cubes are not just a guilty pleasure, but they are loaded with a long lineup of health benefits as well. Are you looking for something different to spice up your inventory? There's no better way to do it than with these nostalgic flavored CBD Candy Cubes. These cubes are perfect for both beginners and experienced CBD users. The CBD does is just perfect. Place your bulk order today and give you something to rave about. Featuring super sweet and crowd-pleasing cherry, our fruity cubes are nothing short of a marvel. Each cube is loaded with 5mg of full-spectrum CBD extract. But what exactly does full spectrum mean, and what's the difference between the CBD extra used to make these cubes and regular CBD? Well, a lot, actually.
When it comes to CBD products, you can either have products that contain CBD as a standalone component, or you can have CBD working alongside other compounds and elements in the cannabis plants. The latter is what you find in our CBD Candy Cubes. These cubes do not just contain CBD, but they contain CBD, flavonoids, terpenes, and other minor cannabinoids. You might be wondering, why bother including other compounds? CBD tends to perform better when it is in the presence of other cannabinoids and compounds from the cannabis plant. This means you will benefit a lot from these candies, more than they would if it were CBD alone.
Super sweet crowd-pleasing Cherry
Full-spectrum CBD extract
THC free
sugar free
Suitable for beginners and experienced users.
Sugar Free
Another amazing feature of these cubes is that they are sugar-free. However, that doesn't make them any less delicious. Instead, that makes them delicious and healthy. Now you will be able to indulge in your favorite CBD treat with no feelings of guilt. CBD Candy Cubes are the perfect offering for those who are looking to try CBD for the first time. This is why they would be a safe bet for any CBD inventory. They are not limited to any particular group of users, so you are guaranteed that sales will fly without limits. CBD Candy Cubes are not psychoactive. Since they don't contain THC, they are safe for any group of CBD users. They are super delicious, and they contain CBD of the highest quality, extracted and processed using careful techniques to deliver the best product possible.
Additional information
| | |
| --- | --- |
| Weight | 0,036 kg. |
| Content | 20g |
| Brand | |
| Dimensions | 7x7x3,5 cm |
| THC | |
| CBD (mg) | |