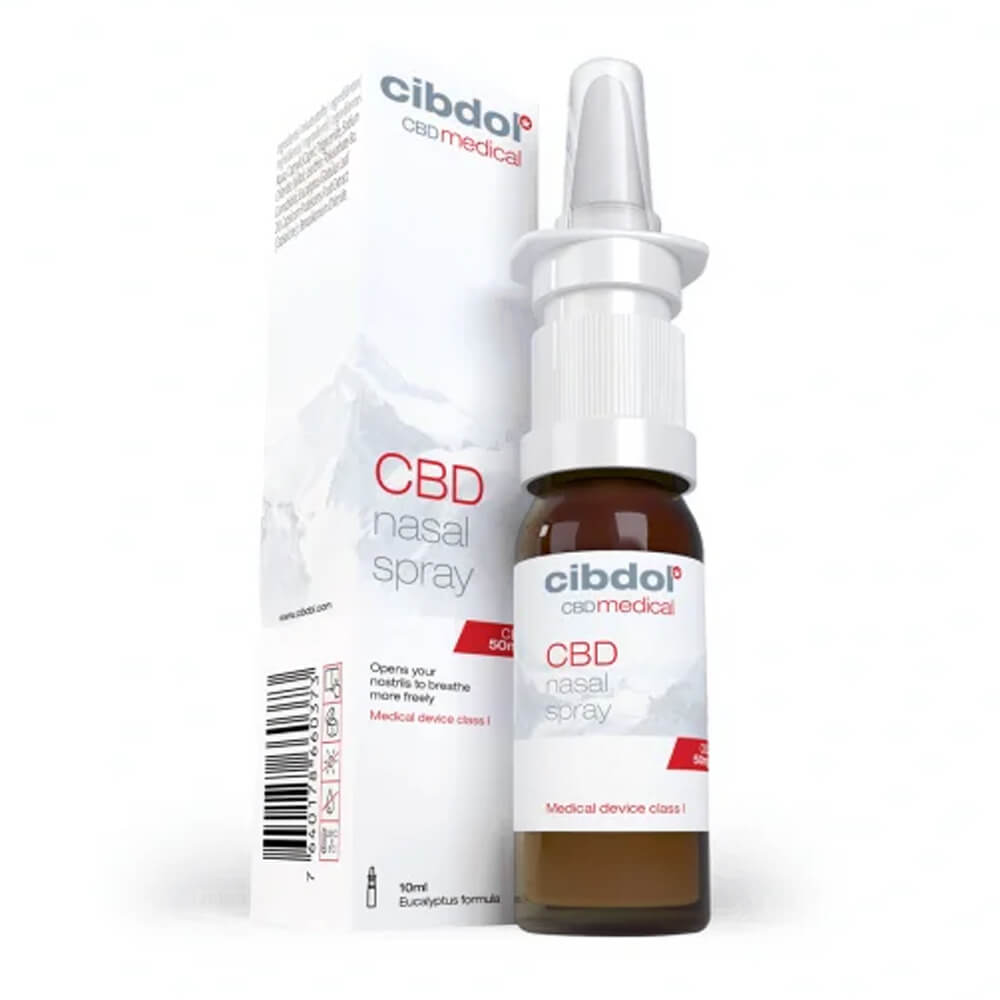 Cibdol CBD Nasal Spray 50mg (10ml)
€19,95
Description
Additional information
Description
CBD For A Better Breathing
Don't let congestion caused by colds or hay fever stop your customers from making the most of the day. Get our wholesale Cibdol CBD Nasal spray, specially designed to help clear congested airways, leaving them feeling refreshed and revitalized. The unique formula utilizes the versatility of CBD together with a sophisticated blend of eucalyptus and capsaicin to provide instant relief, ensuring easy breathing.
Whatever your customers do, from chores to work or volunteering, give them a fighting chance against colds or hay fever. The nasal congestion from these can be inconveniencing and unsettling. But with the fast action of wholesale Cibdol CBD Nasal spray, they can recover freshness and purity of serene, high altitudes.
The full spectrum, gold-standard CBD has been expertly combined with eucalyptus and capsaicin for a holistic solution that can be used daily for congestion mainly caused by colds or hay fever. Direct access to the bloodstream via capillaries in the nasal passage allows CBD to be rapidly absorbed for more pronounced and immediate effects. CBD has been making lots of waves in the news lately! It is gradually developing a loyal fan club, loudly proclaiming its benefits.
The proficiency of CBD combined with the rejuvenating sensation of eucalyptus and the analgesic properties of capsaicin provides that fresh breeze sensation—like the tallest Swiss mountaintops. Together, the selection of natural ingredients opens airways and reduces nasal irritation. Wholesale Cibdol CBD Nasal spray contains 0% THC, so there are no chances of psychoactive effects.
Breathe Clear As The Alpine Breeze
If you want your customers to feel invigorated with the unwavering freshness of an alpine breeze, purchase the wholesale Cibdol CBD Nasal spray. These CBD nasal sprays consist of a blend of CBD and saline solution, which quickly provides relief. Like most CBD products, it works through the interaction of cannabinoids within the central nervous system, offering immediate relief. Also, the high concentration of blood vessels in the nose means the CBD is absorbed directly into the bloodstream, bypassing the digestive system.
Cibdol makes its CBD nasal sprays in a water-soluble nanoparticle form, and you can rest assured these nasal sprays are high-quality pure products. The thin nasal skin mucosa allows active particles to pass through the blood flow easily; Thus, the nose-to-brain delivery system can increase booth bioavailability and absorption speed. That said, wholesale Cibdol CBD Nasal spray can absorb fast and have no less prominent effect than other solutions.
One thing to note about wholesale Cibdol CBD Nasal spray is that they provide the multiple benefits of CBD but are preferred to use as a solution to clear congestion or relieve allergies. This is because of the anti-inflammatory properties of CBD, which can soothe and open airways in the nasal passageways, making it easier to breathe when congested. Add our wholesale Cibdol CBD Nasal spray to your cart today and watch them fly off your shelves in no time. After all, every customer needs to breathe first.
Wholesale CBD Nasal spray features:
CBD Content 50mg
InstructionsClean bottle after use.
Conserve Store in a dry room at a temperature between 8 and 25 degrees. Protect from direct sunlight and heat.
Shelf life 3 months after opening
Content 10ml
Vegan
Age 12 +
CBD Product
Ingredients
aqua; Caprylic/Capric Triglyceride; sodium chloride; xylitol; lecithin; polysorbate 80; cannabidiol; Eucalyptus globulus leaf oil; Capsicum Frutescens Fruit Extract (Capsaicin); Benzalkonium Chloride
Additional information
| | |
| --- | --- |
| Weight | 0,050 kg. |
| Dimensions | 3x3x11 cm |
| CBD (mg) | |