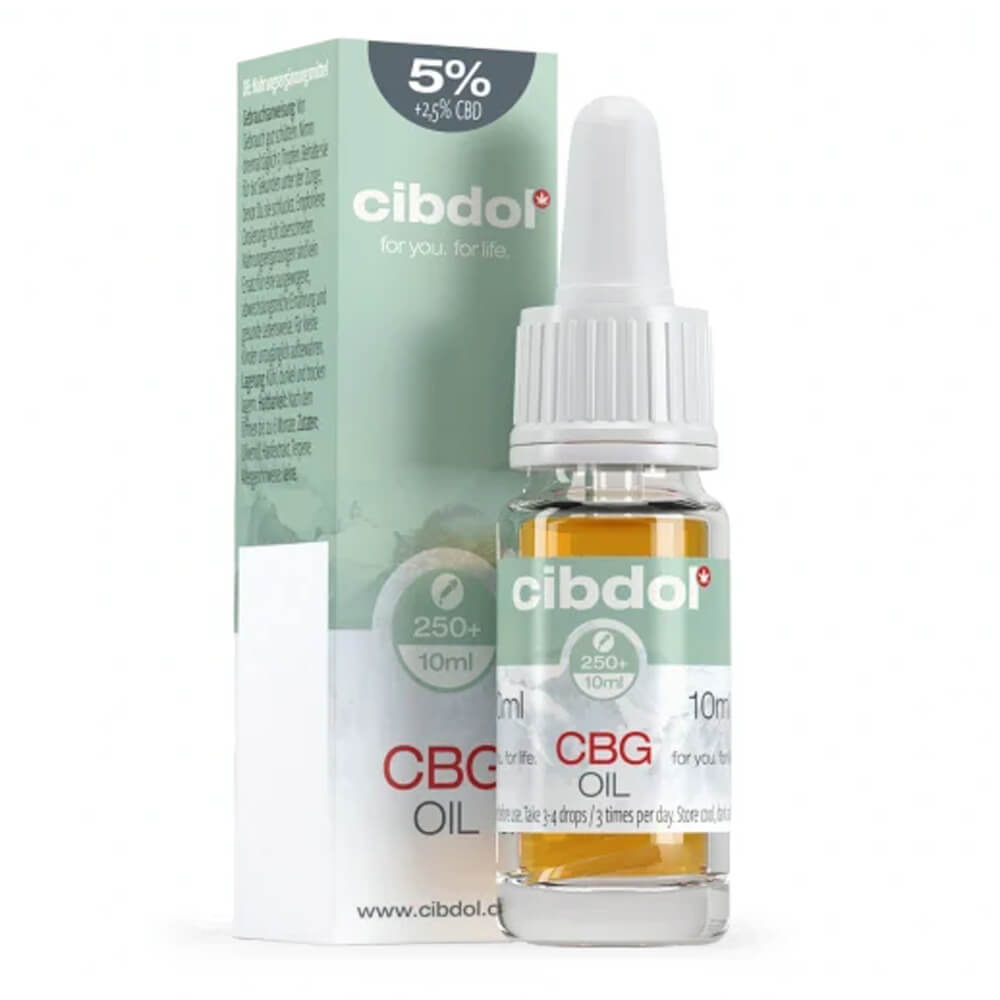 Cibdol 5% CBG + 2.5% CBD Oil (10ml)
€36,95
Description
Additional information
Description
Take Your Wellness Experience To The Next Level!
Cibdol always releases up-to-date lab results for all of its products. They also provide a full breakdown of the CBD content per drop and serving. This is because your customers deserve to know what's in their products. And wholesale Cibdol 5% CBG + 2.5% CBD Oil is no different. It employs a sophisticated formula of cannabinoids, terpenes, antioxidants, and omega fatty acids to provide a natural, comprehensive approach to well-being.
Your customers can support their well-being and harness the power of the entourage effect with the expert blend of non-toxic compounds cannabigerol and cannabidiol. This blend of CBD, CBG, and hemp seed oil harnesses multi aspects of the cannabis plant to create a nutrient-dense formula capable of stimulating the endocannabinoid system and bringing well-being to new heights.
Your customers can finally take their wellness experience to the next level with the power of the entourage effect (a unique phenomenon of chemical collaboration between cannabinoids and terpenes.) The wholesale Cibdol 5% CBG + 2.5% CBD Oil contains no THC, so there are no chances of psychoactive effects. And since it's made from natural ingredients, it is perfectly suitable for your vegetarian customers.
From The Swiss Fields Of European Hemp
As you'd expect from Cibdol, the wholesale Cibdol 5% CBG + 2.5% CBD Oil formula features all the hallmarks of Swiss purity. From highly advanced CO? extraction to independent analysis, your customers can use this product with total confidence. The cannabinoid-enriched oils are always free from THC, additives, pesticides, and GMOs.
CBG (Cannabigerol) is a minor cannabinoid found most abundantly in low-THC cannabis plants such as hemp. In wholesale Cibdol 5% CBG + 2.5% CBD Oil, CBG, and CBD work in harmony with other cannabinoids and terpenes so that your customers can benefit from the whole "entourage effect" (the theory that CBD is most effective when combined with other cannabinoids ). Each bottle of the wholesale Cibdol 5% CBG + 2.5% CBD Oil begins in a field of European hemp. It is cultivated without the use of chemical fertilizers or additives. Cibdol products are rigorously tested to ensure a total lack of unnatural chemical contents. The raw plant matter is processed using clean extraction techniques that extract cannabinoids while separating any needless plant matter and unwanted contaminants. This process results in extraordinary, golden oils that are easy to use in the form of free-flowing liquids.
Additionally, Cibdol oils undergo a proprietary steam-distillation process in their Swiss laboratories to maximize terpene content. Terpenes have been the subject of much interest in the science community and are often considered the next step in CBD supplements.
Wholesale Cibdol 5% CBG + 2.5% CBD Oil expertly blends this incredible capacity, working harmoniously with the body to support robust well-being. Cibdol CBG/CBD oil is packaged in convenient dropper bottles.
It travels well and can be taken on the go, but should be stored in the refrigerator between uses to extend shelf-life. Since they never use unnatural preservatives, Cibdol products are best kept in cool, dark, and dry places after opening. For a mild concentration of CBG alongside golden-grade CBD, choose wholesale Cibdol 5% CBG + 2.5% CBD Oil.
CBD has been researched and believed to help with memory, chronic pain, and sleep problems. Your customers will thank you.
Wholesale Cibdol 5% CBG + 2.5% CBD Oil features:
Percentage of CBD: 2.5%
Conserve: Cool, dark, and dry
Shelf life: 6 months after opening
CBG percentage: 5%
Carrier: Olive oil
Form: Oil
Gluten-free
Vegan
CBD Product
Ingredients:
Cold-Pressed Hemp Seed Oil, Full-Spectrum CBD Extract, Full-Spectrum CBG Extract.