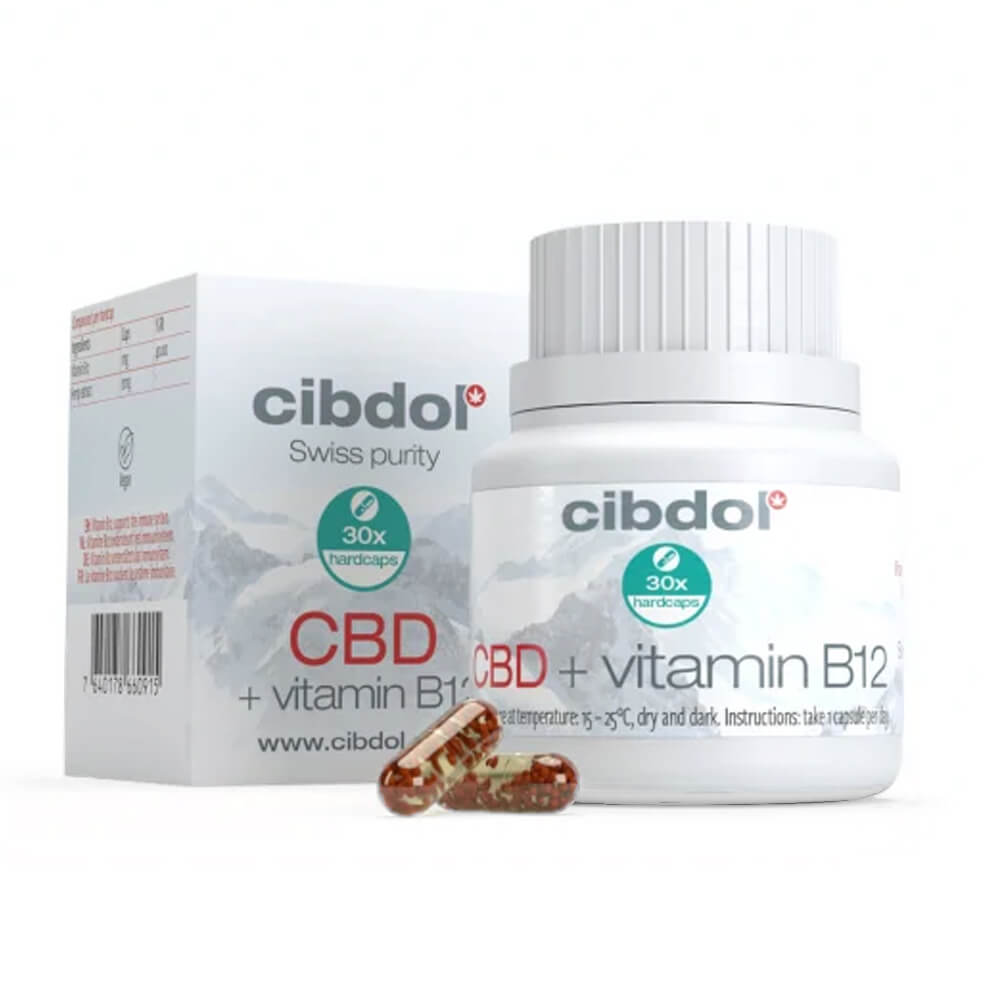 Cibdol CBD Capsules with Vitamin B12 600mg (30 capsules)
€27,95
Description
Additional information
Description
All The Good Benefits Without The High
No matter one's wellness goals, Cibdol's CBD supplements support and nurture the body and ensure it is at its peak when needed. Taking the influence of CBD one step further, Cibdol has expertly combined its balancing effects with dozens of vitamins, minerals, and other lifestyle-boosting ingredients. This remarkable supplement is the Wholesale Cibdol CBD Capsules with Vitamin B12. CBD's natural harmony complements its all-encompassing impact, working seamlessly alongside other ingredients to enhance traditional supplement ranges.
So, regardless of your customers' lifestyle, you can give them the life they deserve with the power of this product. Our Wholesale Cibdol CBD Capsules with Vitamin B12 Formula enhances well-being with an exclusive blend of full-spectrum CBD and essential vitamin B12. The vegan-friendly capsules work in harmony with the nervous system to combat fatigue while being entirely free from THC and unwanted chemicals, giving all the potential benefits without the "high."
Wholesale Cibdol CBD Capsules with Vitamin B12 offering CBD for focus. Because the body doesn't naturally produce B12, it is crucial to maintain healthy blood cells. And this CBD capsule is an all-natural way to incorporate more B12. Since most food sources of B12 are animal-based, it's extra essential for your customers who don't consume animal products to supplement their B12 intake.
And that's where our good news capsules come to the rescue! The CBD Vitamin B12 capsules are safe for vegans and vegetarians alike!
Vegan-Friendly Capsules Powered By Full-Spectrum CBD
Vitamin B12 is a large and structurally complicated vitamin. This essential vitamin plays a vital role in nerve tissue health, brain function, and the production of red blood cells. Like all other B vitamins, Vitamin B12 can dissolve in water and travel through the bloodstream. The body can store Vitamin B12 and eliminate any excess in the urine. But because our bodies do not produce Vitamin B12, we must get it from animal sources such as dairy products, red meat, fish, poultry, eggs, or supplements. Even though, as mentioned, our bodies can store Vitamin B12, one may eventually become deficient if their diet doesn't maintain the required levels of Vitamin B12.
A Vitamin B12 deficiency, if left untreated over time, may lead to nerve damage, anemia, fatigue, muscle weakness, intestinal problems, and mood disturbances. Because Vitamin B12 is involved in red blood cell formation, when your levels of Vitamin B12 are too low, it may cause anemia. The good news is that you have the chance to give your customers' nervous systems the support they need with an expertly prepared blend of golden-grade CBD and water-soluble vitamin B12.
Cibdol's exclusive CBD Vitamin B12 Formula is ideal for a simple, straightforward boost that lasts all day. And, with every capsule tested by an independent third party, your customers needn't worry about the presence of THC, GMOs, or unwanted chemicals. By carefully encapsulating full-spectrum CBD and vitamin B12, Cibdol created a daily supplement that's not only perfect as part of a balanced lifestyle but ideally suited to a vegan diet.
The Wholesale Cibdol CBD Capsules with Vitamin B12 Formula provides the perfect ratio of CBD to vitamin B12 to support the entire body. The CBD extract is derived from naturally grown hemp and offers outstanding purity for a comprehensive wellness experience.
Wholesale Cibdol CBD Capsules with Vitamin B12 features:
Quantity 30 capsules
Conserve Store at temperature: 15 – 25°C, dry and dark.
Shelf life 6 months after opening
Form Capsules
Vegan
CBD Product
Ingredients
Oil: hempseed oil; hemp extract; terpenes. Pellets: vitamin B12; microcrystalline cellulose; hydroxypropyl methyl cellulose; ethyl cellulose; red iron oxide. Shell: hydroxypropyl methyl cellulose.
Additional information
| | |
| --- | --- |
| Weight | 0,042 kg. |
| Dimensions | 4,5x4,5x6 cm |
| CBD (mg) | |